Welcome to the Mushishi Wiki!
Help building this Wiki
The Mushishi Wiki is an encyclopedia devoted to Mushi, Mushi Masters, and what happens when the Mushi world and ours collide.

Feel free to add and expand the archives; your input will feed the minds of generations to come... Just keep the policies and copyrights in mind while editing!
About
Mushishi (蟲師) is a manga series written and illustrated by Yuki Urushibara, published in Kodansha's Afternoon magazine. The story revolves around strange creatures called mushi (蟲) that can cause strange phenomena to the world and creatures around them. Only some can see the mushi, either by being born with the ability or by being affected by the mushi in some way. Some people, called mushi-shi, study to learn more about these creatures and about life itself. One such person is Ginko, the main character of the story, who travels and assists people plagued by mushi. Read more...
Affiliates

Featured Character
READ MORE AT SHINRA IOROI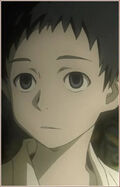 Shinra is a boy who has lived alone in the mountains ever since his grandmother (Renzu Ioroi) died.

Shinra has the ability to create life by simply drawing with his left hand.
Featured Mushi
READ MORE AT KAGEBI


The Kagebi (陰火, lit. Shadow Fire) are bluish, flame-like mushi which feed on the body heat of living organisms. Their true form lies beneath the flames and is called a Hidane.